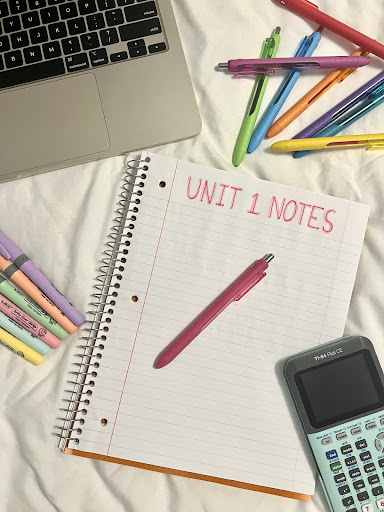 With the new school year in full swing, it's time to embrace your inner Elle Woods and take initiative in your study habits.
   For many Bears, the new school year brought a jam-packed schedule, with many enrolled in their first load of AP or honors classes. Although there are countless tips across both accredited websites and videos on your "For You" page about how to study the "right way," it ultimately comes down to what works best for you.
   I, like most, have fallen victim to the late-night cram sessions the day before a big test. The best way to cut these nights out of your routine is to pencil in even 10 minutes a day to skim your notes after school. Without a hard deadline the next day, it can be difficult to open up your notebook, but even a quick glance will work wonders when test day comes.
   Consistency has proven to be essential for memorization, especially when enhanced with elements that make your notes more visually appealing.
   Effective notes can mean different things for everyone, though. As an AP student and avid member of the Berlin community, junior Cindy Cai relies on the simplicity of her notes to keep herself organized.
   "I like to stick with one color for each set of notes or subject," Cai said. "I don't write down every single thing because when I go back and try to study, it gets really overwhelming. That way I only get the big points when trying to study for a test, which I find works best for me."
   Outside of study habits or schedules, every study session needs an environment that can facilitate your best learning. This looks different for everyone; some need a quiet and secluded space to focus, while others thrive in a group setting.
   Senior Kira Badhe finds that an afternoon at Panera is the best way to crack down on procrastinated schoolwork.  
   "It allows me to just settle in and concentrate without worrying about distractions in my surroundings," Badhe said. "In case it gets loud, I just put on my noise-canceling headphones, but otherwise, it's great."
   With ample time left in the first quarter, save yourself the headaches now and establish a consistent study routine that adapts to your schedule.