Spencer Conrad kicks his way to success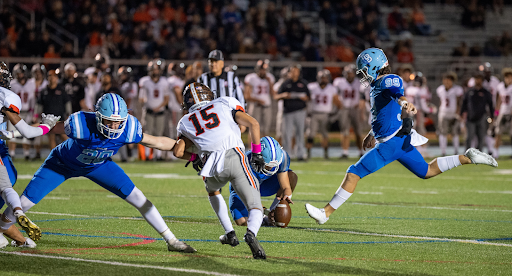 The kicker of the football team has been named Ohio Capital Conference (OCC) Kicker of the Year, as well as First Team All-District. Junior Spencer Conrad has worked to become a major asset for the team.
   Conrad has played soccer since third grade but decided to try football his freshman year.
   "The football coaches gave me a chance and my parents gave me the chance to attend camps, learn, and get better," Conrad said.
   Conrad has put in work to get to the point he is at now. He has attended many camps around the country and has worked with many different coaches to work on his skill. His hard work eventually paid off. On September 16, he broke the school record for "longest field goal" with a kick of 53 yards. This led the Bears to a 23-14 win over Hilliard Davidson.
   "Before the kick, I actually didn't realize how far it was. After, the excitement was overwhelming," Conrad said. 
   Conrad received OCC Punter of the Year for the 2021 season and now owns the title of OCC Kicker of the Year for the 2022 season. He also earned First Team All-District. He is very proud of the season that he has had and all the accomplishments he achieved. However, there is always room for improvement.
   "I will be attending different showcases and camps to stay consistent with my skills," Conrad said.
   He looks forward to his senior football season and would potentially like to kick collegiately. 
   "I'm not sure where that will be, but time will tell," Conrad said.