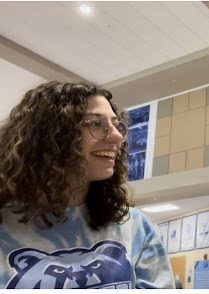 Here is a series of 10 questions answered by a fellow Bear, junior Jillian Miller. These questions are based on the rapid-fire interview style of 73 Questions with Vogue.  
What is your favorite color?
Green
What is your favorite book?
Lunar Chronicles Series
When did your love of reading start?
"I think I've always loved to read since I was able to read. I didn't get into what I read now until sixth grade and then it escalated."
How would you describe yourself in three words?
Optimistic, Silly, and Academic
If you could be in any musical, what would it be?
Anastasia
What is the best part of being in a musical?
"You get to totally just push away reality because it doesn't exist in the musical. It's so extravagant and you get to dance and sing. You don't get to do that in real life. The payoff is so cool too. Hearing the applause is really cool too."
What is the most inspiring quote you've heard?
            "Broken is not the same as unfixable."
What do you want to be when you grow up?
Author
Why do you want to pursue that career?
"Because it's cool and I've grown up with stories. I would love to write them myself and I love writing, it's so therapeutic … I would love to be able to say 'Oh I have to edit today'."
How did you come across that career?
"Well, I didn't really think that until a couple of years ago. I think that's when it started and I was like 'Oh stories are so fun'. I wrote a book when I was in third grade. It was a little picture book and it was based on a different book. My book was called 'Babyzilla' because I had a baby brother. He stalked all over the town. It was crazy but I thought it through. I had pictures, I had a whole plot."