Ohio State sneaks into playoff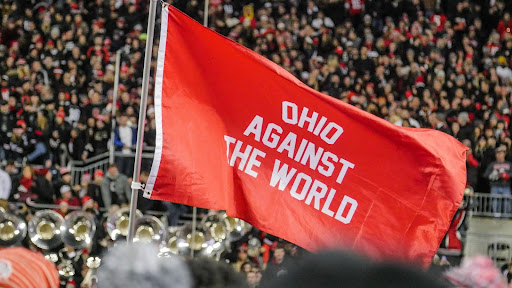 On Sunday, Dec. 4 the college football committee released the final top 25 rankings for NCAA football, which revealed that Ohio State made the playoff ranked fourth.
   According to ESPN, Georgia, Michigan, TCU, and Ohio State will play for the national championship after they were chosen for the College Football Playoff on Sunday. First-ranked Georgia will play fourth-ranked Ohio State in the Peach Bowl and second-ranked Michigan will face third-ranked TCU in the Fiesta Bowl. 
   "This is exactly what the Buckeyes were looking for, Utah to upset USC in the Pac-12 Championship game," Yahoo Sports writer Michael Chen said.
   As conference championships approached USC was fit to sneak into the playoff picture ranked fourth after the buckeyes got thrashed at home by Michigan. Since Ohio State was out of the playoffs the players, coaches, and fans could do nothing but hope that the Utah Utes went back-to-back and beat USC for a second time. On Friday, Dec. 2 that dream came true as Utah handled the Trojans 47-24 in the Pac-12 championship. After USC joined the seven other two-loss teams in the FBS top 25 Ohio State was almost guaranteed to sneak into the fourth-ranked position.
   "How we got here, at this point, I guess doesn't really matter now that we're here," Ohio State coach Ryan Day said according to CBS.
   Fans and players of a devastated Ohio State team after their loss to the 'team up north' were reborn with life and a possibility at their ninth national championship in program history. New drama sparked since Ohio State had a shot at the third-ranked position after previously undefeated dark horse TCU lost their first game to 11th-ranked Kansas State in the Big-12 championship game. This caused a possibility to have a Michigan, Ohio State rematch in the Fiesta Bowl if the committee decided to put Ohio State ahead of TCU. Although many were hopeful, experts seemed sure of no changes to TCU's status.
   "Despite their loss Saturday, they remain projected to earn placement in the four-team field once it is announced Sunday. Given it was an overtime loss to a top-10 opponent in Kansas State that TCU already defeated during the regular season, the Frogs will likely enter the playoff at No. 3 ahead of Ohio State, which is projected to take the final spot," CBS Sports writer Shehan Jeyarajah said.
   Although many were hopeful for a rematch of the rivals of the northeast as expected Ohio State was placed at four. This decision leaves the possibility of an incredible story to be written. According to ESPN, the Wolverines are a 9.5 favorite in the Fiesta Bowl. In the Peach Bowl, the buckeyes play an undefeated Georgia team that was not close to conceding a loss all season and are projected 7-point favorites. If the Buckeyes pull off an upset and Michigan handles business a rematch of the most anticipated rivalry in college football would be held in SoFi Stadium.