Morgan Wallen leaves fans disappointed with show cancellation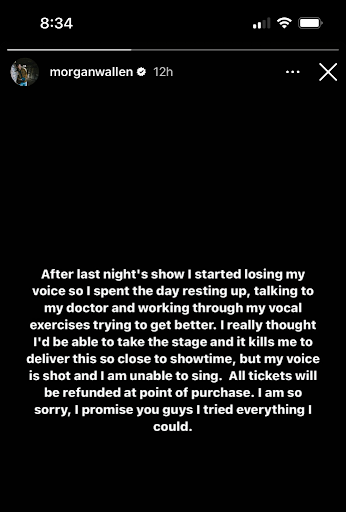 Morgan Wallen fans were left without a concert on Sunday, April 23 in Oxford, Mississippi. 
   The top country artist posted a notice with an apology on his Instagram story around 7 p.m. on Sunday night. The doors to the concert opened at 6 p.m. and nearly 60,000 fans of Wallen were notified that he was not to perform only minutes before the concert was set to start. 
   The Tennessee native's "One Night at a Time" sold-out American tour has been an event many have looked forward to for months since it was announced.
   While Wallen's excuse for the cancellation was that his voice was shot, there have been speculations that this wasn't truthful. It is alleged that Wallen was too intoxicated to play the show that night. With such late notice of the cancellation and fans in the stadium full of anticipation, rumors began to spread and the country star has gotten a lot of backlash.
   Fans have voiced their disapproval of how Wallen and his team handled the situation.
   "What made it more upsetting was that Morgan Wallen canceled his show after all three opening acts performed and minutes before he went on stage," Berlin alumni Callista Rousher said. 
   "Many people including my friends and I drove several hours to see him perform just to turn right back around, so it would have been much more convenient for him to have called off his show earlier in the day if his voice was truly as bad as he claimed." Rousher continued. 
   On Monday, the 24, Wallen continued with the disappointments with an Instagram story post that he had to cancel the rest of the week's shows. While these three shows have been rescheduled to later dates, the letdowns won't be forgotten by fans who experienced the concert.