A massively popular book sparks controversy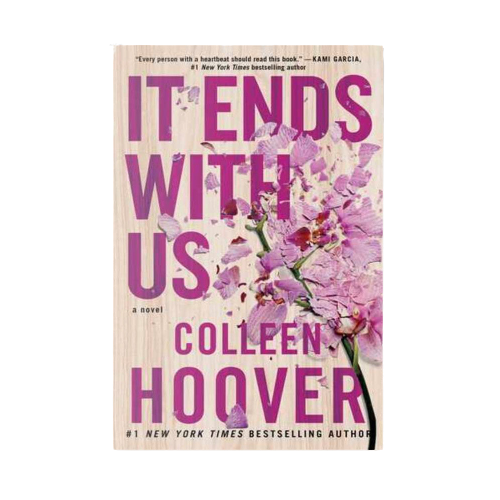 It Ends With Us by Colleen Hoover was the sixth best-selling book of 2021, BookTok  has gone  nuts over it, and it won Colleen Hoover the Goodreads Choice Award for Best Romance. Its much anticipated sequel came out in October. Although this book may be a fan-favorite, I believe it delivered a poor message and portrayed a problematic perspective on domestic abuse.
   The novel centered around a girl named Lily who met Ryle and fell for him. As she continued to develop feelings for Ryle, her first love reappeared and challenged Lily's love for Ryle. Lily is the daughter of an abusive father and her life began to follow in her mother's steps, almost unknowingly. Early in their marriage life, Ryle began to physically abuse Lily, because of his alarming temper. Hoover offered a point of view in which victims may lose the ability to see what is right and wrong. Lily continued to let these incidents happen, but the third time this happened, Ryle is revealed to be manipulating and sadistic.  
   This book really could have been raw, beautiful, and fascinating, like several other people who described this book. But, it led into toxic masculinity and romanticized red flags. It glorified a charming but dangerous man and It Ends With Us repeatedly  got a pass. The novel is not a romance novel but is unfortunately found in the romance section of all book stores. The fact that a story about domestic abuse is promoted as a love story has taken part in the downfall of It Ends With Us. 
   However, the book did address topics that have never been discussed before, Hoover could have done it in a better way. She also included several good quotes and the writing flowed well but the book itself displayed a negative view on anti-feminism. 
   I rate this book a 2.5/5 because overall, it was damaging and troublesome. It is unacceptable for a young audience from ages 11-15 to misinterpret this book and idealize this kind of relationship. Colleen Hoover could have approached this topic differently, given her huge platform. This over-hyped book let me down immensely and was definitely a painful experience to read.