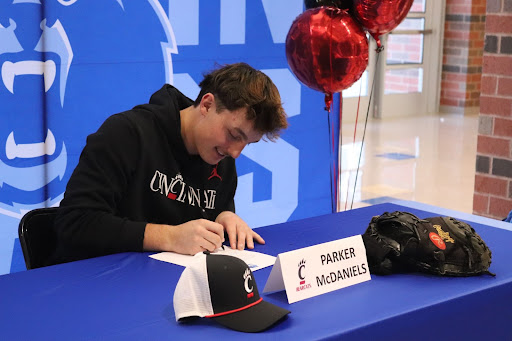 Berlin broke records as 17 student-athletes, the most in school history, over the span of 9 different sports, signed their national letters of intent on Nov. 8 and committed to their colleges where they will continue their athletic careers at the next level. 
   Nov. 8 was the first day to sign national letters of intent for the class of 2024 and seniors across the nation made their commitment to play collegiate athletics official. 
   The athletes met in the commons where tables displayed flags, balloons, and more of their respective schools. Teachers, coaches, teammates, friends, and families were all in attendance to celebrate the athletes' achievements. 
   Baseball had five athletes who signed. Taylor Bednar signed to the University of Akron, Parker McDaniels signed to the University of Cincinnati, and Kyle Hagg, Maddox Pullian, and Carson Repp all signed to Lake Erie College. 
   Three girl soccer players signed. Fina Davy signed to the University of Louisville, Addison Lambert signed to the University of Akron, and Maddie Smoleski signed to Wofford College. 
   Girls swimming had two signees. Jin-Jae Robinson signed to the University of St. Thomas and Brenna Mowery signed to Stony Brook University.
   Golf had two signees, one for girls golf and one for boys golf. Mia Raines signed to Eastern Michigan University and Cameron Moreland signed to Tiffin University.  
   Other individuals who signed included girls basketball player Layla Merriweather who signed to Wheeling University, girls lacrosse player Lily Thompson who signed to Winthrop University, and girls softball player Ava Kresak signed to Wheeling University. 
   Two student-athletes who played sports outside of the realm of Berlin signed as well. Kayleigh Schmehl signed to play beach volleyball at the University of Tampa and Olivia Cardi signed to be a part of the equestrian team at South Carolina University.