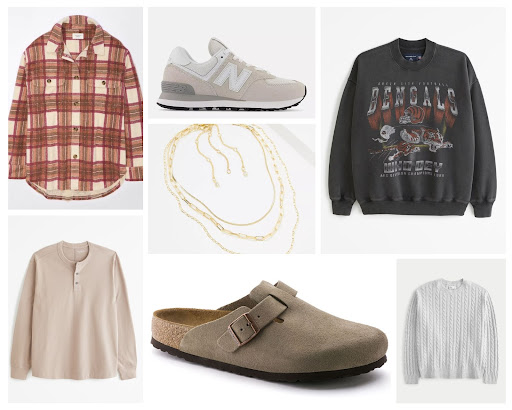 Leeds Farm 
   Female-  American Eagle Plaid Fleece & Love Shacket in deep burgundy, with the Cotton Seamless Fabric Tank Bodysuit in cream from Abercrombie and Fitch has a seamless look. For bottoms, the Zara Marine Straight High Rise Jeans in a blue wash would go perfectly. Accessorize with your choice of gold or silver jewelry, Target has some durable options. Converse is a good basic shoe that can't go wrong with any outfit.
   Male-  H&M Relaxed Fit Hoodie in light beige with the American Eagle Super Soft Flannel Shirt in brown is a great choice. The 90s Straight Jean in light wash from Abercrombie and Fitch. New Balance 550 for shoes. 
Movie Night
   Female- Grey Bandit's Just Like You set in mocha. American Eagles Core Necklace 3-Pack and some gold hoops would make this outfit complete. 
   Male – Target's Men's Plaid Flannel Pajama Pants- Goodfellow & Co in the color gray. Essential Popover Hoodie in light heather gray from Abercrombie and Fitch.  
Fall festival fit 
   Female- Big Comfy Sweater in light gray from Hollister. American Eagle Super High-Waisted Baggy Wide-Leg Cargo Jeans. For shoes, Women's Chelsea Rain Boots – A New Day in black. 
   Male- American Eagle's AirFlex+ Ultrasoft distressed original bootcut jeans in the color moonstone light. The Long-Sleeve Premium Heavyweight Henley Tee in the color light brown. 574 Core in color nimbus cloud with white from New Balance. 
Pumpkin carving
   Female – John Galt Black Mayson Off-The-Shoulder Top from Pacsun. Fleece Cargo Sweatpants in spring gray mix from Garage. The Classic Slipper ll in chestnut from UGG would be a good shoe to match. 
   Male-YPB Freestyle Training Joggers in black from Abercrombie and Fitch. NCAA Ohio State Buckeye Men's Bliblend T-Shirt from Target. Nike Air Max 90 shoes from Nike. 
Bonfire 
   Female- Merokeety Women's 2 Piece Outfits Fuzzy Fleece Pajama Set Long Sleeve Wide Leg Pants Loungewear in black from Amazon. Women's Caroline Glittered Moccasin Slipper in black from Target. 
   Male- Boston Soft Footbed in taupe from Birkenstock. Nike's Sportswear Club Fleece sweatpants, in the color grey, are great. Paired with the Cincinnati Bengals Graphic Crew sweatshirt.