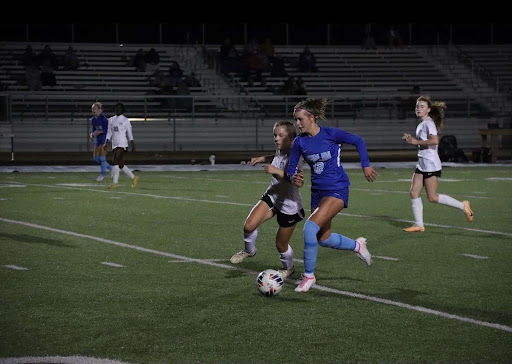 Student-athletes go through an immense amount of stress throughout their high school career. Extra hours of hard work daily creates an even more difficult environment.  
   Senior Addison Lambert is a part of the girl's varsity soccer team at Berlin. As she has experienced four years of life as a high school student-athlete, she's able to share her experience of the hardships she has had to face. 
   "I feel like it can be very stressful trying to balance everything," Lambert said. "Making sure you get all our homework done and are ready for tests while balancing practices and games is difficult." 
   Although Lambert might find many bumps that affect her high school career, she manages to find many good memories that make her high school experience so much better.
   "Some of my favorite memories of high school are within the soccer team," Lambert said. "Winning districts back-to-back with my best friends is just so fun." 
   So many memories make every moment worth it; Lambert would never take any moment or decision back. She's glad she stuck it out all four years.
   "Even though it can be a lot of work as sports require a lot of time, being a student-athlete teaches good life lessons," Lambert said. "It allows you to represent your school not just academically but also athletically."
   Lambert has many tips to get through all four years as a student-athlete. She makes sure she gets things done on time, sets a schedule for herself, and relies on her friends and family when times get hard.