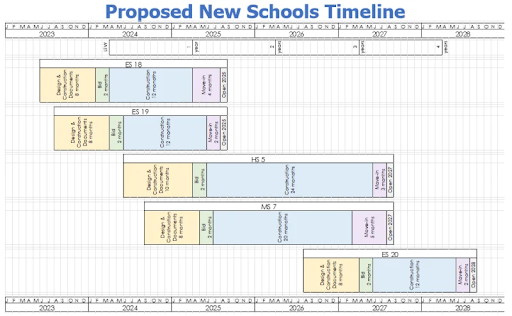 On Oct. 26, the Olentangy Schools Board of Education approved a multi-million dollar levy to be placed on the March 19 ballot in response to unprecedented population growth in district bounds.
   This two-fold proposal includes both an operating levy and a permanent improvement levy. In the $3 million operating levy, the district would account for everyday operation costs, which include salaries, education materials, new staffing to maintain class sizes, and expanded security for elementary schools. The $1.25 million permanent improvement levy would cover the costs of building maintenance such as theater and stadium upgrades, and new musical instruments.
   The most prevalent result of approval in March would be the construction of five new buildings: a high school, a middle school, and three new elementary schools.
    "Our district has experienced exponential growth since the early 2000s, and enrollment projections by our facilities committee forecast a 21% increase in student enrollment over the next ten years," Superintendent Todd Meyer said, according to ABC 6.
   After the 2020 ballot, the district anticipated they would need another levy in 2023, but a lower-than-predicted enrollment rate allowed the board to hold off on proposals until now.
   According to ABC 6, "We made a promise to our community that Olentangy would stay off the ballot for three years, and I am proud that we stretched that commitment to four years," Meyer said.
   The Board of Education estimated a $148.75 tax payment for every $100,000 in home value as of the 2024 home appraisals. Regardless of home-ownership status, Berlin students like Ally Santos '24, who are at least 18 years old and registered to vote by March 19 have a say in the approval of this ballot.
   "It's pretty cool that I can vote on this as a student in the district," Santos said.