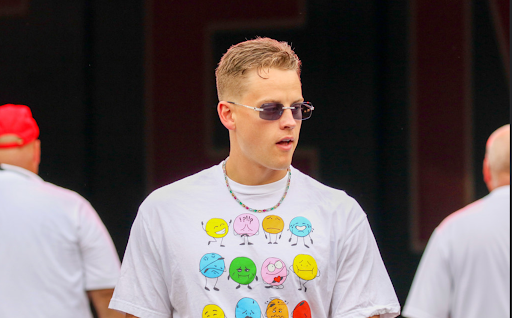 Joe Burrow, the highest-paid player in NFL history has had a tough battle with injury this season.
   Before the start of the 2023 season, the Bengals offense led by Burrow, was expected to be top three in the league. However, during the preseason, he suffered from a major calf sprain. This caused him to miss the remainder of the preseason and left fans worried about whether he would play in week one. 
   Burrow did end up starting in week one of the regular season but not the Joe Burrow we all saw last year. He was very immobile and was noticeably in pain because of his calf. This made it relatively easy for the Browns' defense to control the game, as the Browns went on to handle the Bengals 24-3. 
   More of the same story happened in the following week as the Bengals moved to 0-2 on the season. After the loss to another division rival, Burrow admitted he was not 100%. 
   Although, he was not gonna give up. Finally, in week three versus the Rams, the Bengals got their first win. Burrow spoke on his mindset before the game, according to bengals.com.
   "It was all stuff that you weigh when you're making that decision," Burrow said. "There is the risk to go out there and potentially re-injure it, but there's also the risk to not go out there and be 0-3…"   
   Burrow was obviously not at his best before this game but did not want to let his team down. Therefore, he played even with the risk at stake. This paid off as they moved to one win on the season after the tough game. 
   The Bengals took another loss on the season that moved them to 1-3. The team morale was not good at this point and neither was Burrow's calf. 
   However, as the team moved into week five the mindset around the locker room was that this next game they had to win. Burrow spoke before week five according to the nfl.com. 
"Gotta win…Whatever it takes," Burrow said. "Doesn't have to be pretty, but gotta come out with a W."
   They did just that and better yet; Burrow looked like the quarterback everyone is used to. Finally, Joe Burrow felt fully healthy and ready to roll into the tough part of the schedule. The Bengals are 3-3 as of Sunday, Oct. 15. 
   For more information and updates for the team on the rise visit www.bengals.com.