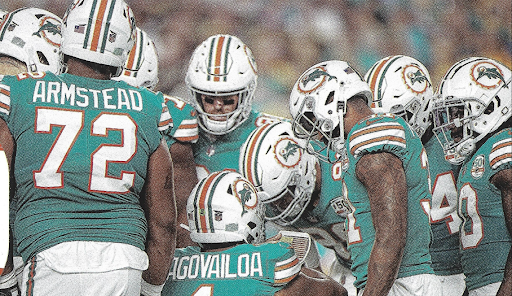 The NFL season is in full swing by now, and Tyreek Hill has shown that he is a key player that defenses must respect in the passing game this year. 
   This is Hill's second year with the Dolphins, and the offensive coordinator, Frank Smith, has shaped the team's offensive game plan around a couple of standout players this season. Between the dangerous deep threat (Hill), and their explosive running back Raheem Mostert, other NFL defenses are challenged with the intimidating feat of this complex offense. 
    A host for the Athletic Football Show, Nate Tice, has reflected on the Miami Dolphins offense this year in an NPR podcast, impressed with the arsenal of athletic weapons they have. 
   "That sounds so simple, but it is blowing defenses' brains because they're just, like, oh, my God, we haven't seen that," Tice said. "The Dolphins and other teams now are leaning into more than ever before. And it's really, really cool just to see. It's a form of creativity." 
  The Dolphins dominated the Denver Broncos in week three of the regular NFL season. According to Statmuse, Tua Tagovailoa, quarterback for the Miami Dolphins, threw for 309 yards and scored a total of 4 touchdowns against the Broncos, as the final score showed 70-20, Miami. 
   Hill had nine receptions for a total of 157 yards and one touchdown against the Broncos as well. This is miniscule compared to Hill's week one performance. In week one against the Los Angeles Chargers, Hill racked up 257 total yards, through 15 receptions and two touchdowns. 
   The Dolphins have sent a message to the rest of the NFL, as they have proved that they are a force to be reckoned with this year. Keep an eye out for the Hill and the rest of the Dolphins this year as they fight for a spot in the playoffs.