Ed Sheeran achieves victory in copyright case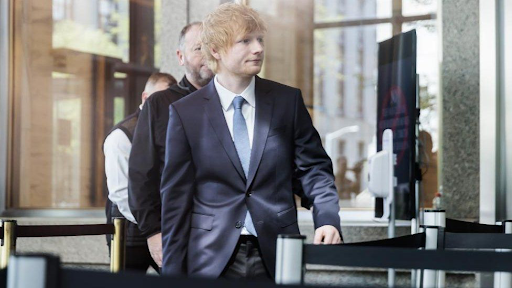 Ed Sheeran, famous singer and songwriter, was taken to court by the family of Ed Townsend as he was accused of copyright on his song "Thinking Out Loud". 
   In 2011 the singer earned his first hit single "The A Team" and continued on to release six albums and over sixty-five singles. With his first album under his belt, in 2014 he released his second album titled X(multiply) which featured another hit single "Thinking Out Loud". The hit song got Sheeran his first Grammy for Song Of The Year and Best Pop Solo Performance.
   Years earlier in 1973 Marivn Gay released his hit song "Let's Get It On" which presented a chord progression and rhythm that grabbed the attention of listeners. When the family of co-writer Ed Townsend heard Sheeran's hit song they thought the chord progression and rhythm were too similar and took Sheeran to court for copyright infringement. Many questioned what Sheeran would do if he lost the case and if he would continue music. 
   "If that happens, I'm done – I'm stopping," Sheeran said in an interview with the New York Post. "I find it really Insulting to work my whole life as a singer-songwriter and diminish it." 
   The news quickly swarmed social media and videos of the two songs played together filled TikTok. Numerous TikTok videos were filled with comments of users that argued the two songs don't sound alike and that the thought that "Thinking Out Loud" sounded like "Let's Get It On" never crossed their minds. 
   This trial was unique to others as the sounds of Sheeran's guitar and voice filled the courtroom in effort to prove that he was innocent. 
   "At one point, the musician performed a mash-up on guitar of his songs and Marvin Gaye's as he tried to demonstrate how common the four-chord progression was for his hit 'Thinking Out Loud,'" according to ABC News.
  After three hours of deliberation, the trial came to an end as the jury came to the decision that Sheeran is not guilty of copyright infringement and will continue his music career.