Saint Motel brings Hollywood to Columbus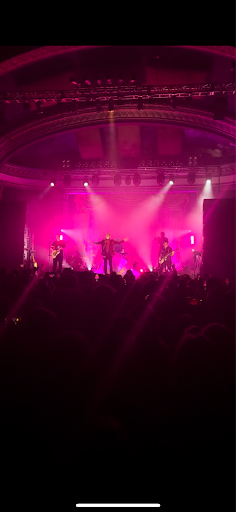 LA natives, Saint Motel embarked on their six-night "Awards Show" tour, and made a stop at Columbus's Newport Music Hall on the way on April 26.
   In their first live tour since the pandemic, the band allowed their fans to vote for their favorite tracks to be played at each show. Each city was given a unique setlist, with the nominees and winners announced by different members of the band throughout the show in classic awards show fashion. According to lead singer AJ Jackson, there were over 3,000 possible combinations for the setlist, but each city got their own special show. 
   While most artist's tours predominantly feature recent songs to promote the newest album, Saint Motel took a different approach to this tour. Their last album, "The Original Motion Picture Soundtrack" debuted in 2021, so this tour shared songs from all four of their albums equally. 
   The set included songs the band admitted hadn't been played live in years, which included "Balsa Wood Bones," as well as the un-released "Everyone's A Guru Now." The band's old school Hollywood style infused the room with energy throughout the night, and made sure to never let the beat drop.
   The line-up consisted of singer and pianist AJ Jackson, guitarist Aaron Sharp, drummer Greg Erwin, and bassist Dak Lerdamornpong, which has remained the same since their formation in 2009. Their fraternity and long love for music shone through on the stage as they deftly moved from song to song without a predetermined or rehearsed setlist. 
   To start the night, Saint Motel was welcomed to the stage by two opening bands, Homes and I and Columbus natives Jady. Both were two-man bands, with Homes and I on stage first. They played a slowed down cover of Katy Perry's "Teenage Dream," one of the only familiar songs for the crowd. 
   While most of the audience also seemed to be unfamiliar with Jady, the band had the entire crowd on their feet, entranced in dance, by the end of the set. Lead singer Jarrett Doherty engaged the audience and bounced through their 45-minute set without a sweat. 
   With a three-song encore by Saint Motel, the crowd left reluctantly, but satisfied. Saint Motel announced new music on the way, and likely a tour to accompany. Because the city of Columbus was chosen for this exclusive tour, Berlin fans can be sure to see them again soon.