Jordan or James: who is the true goat?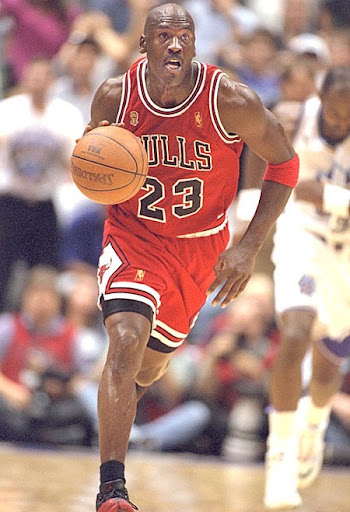 Perhaps the two biggest names brought up in the "greatest of all time" debate in professional basketball are Michael Jordan and Lebron James, but between the two, who is actually the GOAT?
   Most people look at the championship rings and trophies when they compare the two. Jordan has six NBA championship rings, six Finals MVP trophies, five NBA MVP trophies, and three All-Star Game MVPs. Jordan also won Rookie of the Year in 1985, and in college won several consensus All-American awards, the 1984 consensus National Player of the Year, countless ACC awards, and the NCAA National Championship in 1982 as a freshman at North Carolina. Jordan also currently ranks no. 5 on the NBA all-time scoring list, and no. 1 all-time for highest average points per game.
   James has four championship rings, four finals MVP trophies, four NBA MVP trophies, and three All-Star Game MVPs. James was the first overall pick of the 2003 NBA Draft at just 19 years old, and won Rookie of the Year in 2004. He also recently rose to the number one spot of the NBA all-time scoring list, ranks no. 6 on highest average points per game, and no. 4 on all-time assists. 
   Jordan's career lasted 15 seasons, with an 18-month break from basketball and a shift to minor-league baseball during the mid-1990s. James is currently in his twentieth season in the league, with a few seasons still ahead of him.
   James' career has already outlasted Jordan's, but it is hard to ignore how much the NBA has changed since the Jordan days. In the late 1980's and into the 90's, the style of play was unruly and lawless. Jordan faced several teams over the years that used physical violence to their advantage against Jordan, rather than a focus to beat him through technical skill or strategy. 
   The NBA is now often labeled as "soft" and the physical nature of the '80s and '90s has almost completely faded. Even the slightest bit of violence can result in technical fouls, ejection, suspension, or fines. The defensive style of play has drastically changed, and the major increase in 3-point shooting since the early 2000s has simply made the NBA a much different league than it used to be.
   James' longevity has proven to be a major factor in this debate, because despite his all-time scoring total being higher, according to USA Today, Jordan reached 30,000 total career points in only 960 games, but James reached the same amount of points in 1,107 games. Jordan was undeniably the most dominant and well-rounded player of his era, but people question if James is the same in this modern era of professional basketball.
   Both Jordan's career and his style of play appear to be more flashy than James, who has been deemed as old and slow as he is now 38 years old. But both are brought up in the GOAT debate for a reason, and this topic would not be so heavily discussed if there was a clear winner.
   Simply looking at awards, Jordan is the clear and obvious winner. Although he does not hold the all-time scoring title, which is fairly important to this debate, his scoring trajectory shows he likely would have reached the number-one spot had he played as long as James. The MVPs, championship rings, and NCAA awards prove Jordan to be a more decorated athlete than James, and there was little to no question about his GOAT status and dominance back when he still played.
   It is truly difficult to compare these two players, as their playing styles, physical attributes, and the eras in which they played are drastically different. I feel as though if I had to choose between Jordan and James, I would choose Jordan for his undeniable dominance from the first time he stepped onto the court in a Bulls uniform up until the last moment he played the game of basketball. Although he was not known to be the kindest or most supportive teammate, his "win no matter the cost" attitude is the reason he has reached such a touchable level of success. James still has time left in his career, and he has already accomplished more than the average player. In the overall ranking, I have James not far behind in second place, but nothing beats the GOAT himself, Michael Jordan.