Social media encourages reading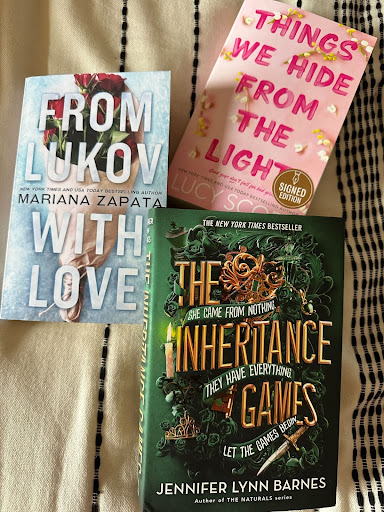 Booktok is a "side" of the popular social media app, TikTok, where people post book reviews, discussions, and recommendations centered around the types of books that they enjoy to read with the hopes to encourage others to read them too. 
   There are many different types of books that people review and recommend on the app including young adult, fantasy, contemporary romance, and mystery and most accounts will even specify the different tropes that are present within the books. Some popular tropes include brother's best friend, enemies to lovers, friends to lovers, sports romance, forced proximity, billionaire, and fake dating. 
Some readers, like myself, use the app Goodreads to rate books that they have read and to put books they are interested in on their want-to-read lists. Goodreads will give you recommendations based on books that you have marked as read and based on how you rated other books.
   Booktok has encouraged many to start to read by the countless books that have been recommended. According to Today, over 825 million books were sold in 2021 which was a nine percent increase from 2020. The Booktok hashtag on Tiktok has around 130.4 Billion views. 
Popular Booktok books:
   "The Inheritance Games" Trilogy by Jennifer Lynn Barnes is a young adult mystery that follows the story of Avery Grambs who inherited Tobias Hawthorne's wealth and property while not connected to him or the family. Tobias' grandsons become involved as they all try to figure out the mystery of why she was left with the money. Before she can receive the inheritance, Avery is forced to live with the Hawthrone family in their mansion for one year before she can receive the actual inheritance. This story features a love triangle as well as enemies to lovers. The first book has 4.22 stars on Goodreads. I personally have not read this book but I have only heard great reviews about the series. 
   "It Ends With Us" by Colleen Hoover is a new adult contemporary romance book that features the story of Lily Bloom which has a dual timeline of her life presently and from her past. The story follows her abusive relationship with Ryle and her reconnection with Atlas from her past. The book has 4.27 stars on Goodreads and is currently in the works to become a movie in which "Gossip Girl" star Blake Lively as Lily Bloom, "Jane the Virgin" actor Justin Baldoni as Ryle Kincaid and Atlas Corrigan will be played by Brandon Sklenar. While this book does touch on more mature topics it is a great book to see and understand the mindset of someone who is in an abusive relationship. While this book is a standalone, Hoover did write another book, "It Starts With Us," about Lily and Atlas's love story. 
   "From Lukov With Love" by Mariana Zapata is a slow-burn figure skater romance that follows the story of Jasmine Santos, a figure skater in need of a new partner, and Ivan Lukov an award-winning figure skater who is also in need of a new partner but there is one problem and that is that they hate each other. This enemies-to-lovers story is one of my favorites that I have read and it keeps you entertained the whole time. The book has 4.29 stars on Goodreads and I would highly recommend it.