Olentangy theatre blooms with musicals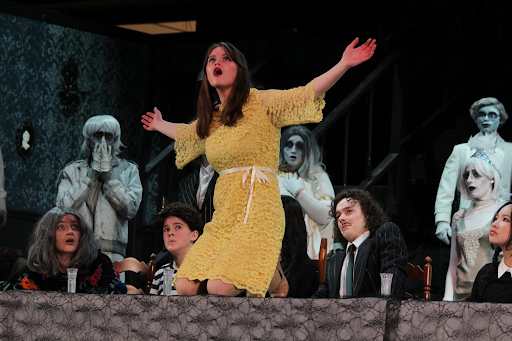 Spring has sprung, and the season has brought along several Olentangy musicals in its wake. 
   Liberty opened the musical season with their performance of Anastasia, which ran from March 10 to March 12. Anastasia follows the life of a forgotten Russian heiress on her way to discover the mystery of the past. With a charming conman and hilarious ex-aristocrat as her companions, Anya escapes to France to reunite with her hopeful grandmother.
   Played by senior Kennedy Powers, Anya enjoyed the spotlight for the majority of the show. Several of the side characters, such as Vlad Popov and Countess Lily, however, provided much-needed comic relief throughout. The show bounces delightfully from serious, breath-holding moments to others where laughter booms throughout the theater. 
   Liberty's production also displayed a fairly unique set element: a projection backdrop. Synched to the music, the projections changed frequently to reflect the scene. The projections were even animated, which made the scene feel straight out of a movie. 
   Additionally, while the choreography was simple for most of the show, several ballet and ballroom dances added dimension to the show. 
   The next weekend, Orange presented Spongebob Squarepants, a high-energy musical that followed the beloved characters from many of our childhoods. While the musical differed drastically from Anastasia, it kept the audience entertained nonetheless. Filled with everything you could possibly hope for in a Spongebob musical — a jazz sequence from Squidward, ballads from Patrick, and a rap segment from Plankton — the cast managed to keep the intensity up throughout the performance.
   One of the most impressive pieces, though, was the set. Set pieces and props were changed out seamlessly countless times during the show. Painted and crafted to reflect the cartoon essence of the show, it truly felt like the cartoon came to life before the audience's eyes.
   This Thursday, Berlin will open with their fifth musical, The Addams Family. The cast will don wigs and ghost makeup as they bring to life this kooky family. The story follows brooding Wednesday Addams as she finally falls in love with the far-too-normal Lucas Beineke, much to the dismay of her cynical family. 
   Next month, Olentangy High School will perform Disney's Beauty and the Beast, and will bring the 2023 musical season to a close. If Liberty and Orange are any indication, the remaining Olentangy shows are not to be missed. Tickets for Addams Family can be purchased at obhsdrama.booktix.com.