Four Points Pizza: The pizza that gives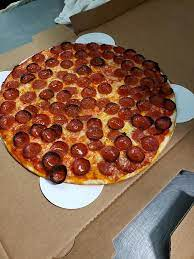 Bears, you need to get your mouth around a slice of Four Points pizza. I promise you, it will be a mouth watering experience. 
   For starters, I would rate Four Points a five out of five pizza slices. The pizza gives the consumer a whirlwind of flavors, not to mention their amazing customer service. I placed my order over the phone and it took only a minute. Employees at Four Points value speed, but still my order is never missing anything. It's perfect, slice to slice. 
   I first ordered Four Points about a year ago. I made my way to 5277 Columbus Pike, Lewis Center, OH, and I was met with a quaint place. As I walked in, I was welcomed with warm smiles and immediate service. I prepaid over the phone, and I received my pizza in just two minutes. Piping hot, I knew Four Points was my new favorite pizza place. 
   Unlike Donatos, Four Points pizza offers a crunch to their crust. They burn the bottom of their crust lightly to create a mix of texture throughout each bite. They create a crunchy exterior, and soft interior. 
   You are in for a delight when you realize the various options of food available at Four Points. Of course there's pizza, but Four Points offers more than just the classic. Subs, wings, pasta, tenders, and most importantly, calzones. Calzones! Much like stuffed bread, calzones give you flavors wrapped around a warm crust. When people take a bite, the gooey insides give consumers bursts of spices and cheeses. Truly a delight. I forgot to mention, Four Points also has desserts! I'll let the names speak for themselves:. 4-layer cake and cheesecake….Yum!
   Although Four Points is truly amazing, their prices make me wince just a bit. If you're on a budget, Four Points will just have to be a treat every now and then. One large pepperoni pizza is around $14. That adds up quickly. Again, maybe just for special occasions.
   Overall, Four Points is the perfect pizza place for students of Olentangy Berlin. It's perfect for game day, or even after a hard day of school. If you love pizza, Four Points is the place for you. Just a word of advice, get a cup of ranch on the side. Even if you're not a ranch on pizza person, just trust me. It's amazing! Let's give Four Points the recognition it deserves. I hope you enjoy it!