Fisk and Talladega trailblaze the path for HBCU gymnastics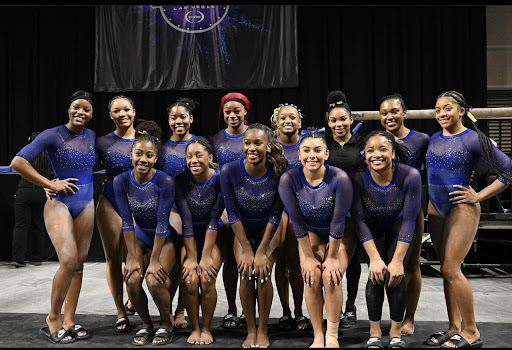 Historically Black Universities and Colleges (HBCU) spring into the world of women's collegiate gymnastics for the first time as Fisk University continues their historic season and Talladega announces they are set to compete in 2024 for their inaugural season. 
   Fisk University led by coach Corrine Tarver paved the way for HBCU's in the future as they entered into the world of gymnastics as the first-ever women's HBCU team. 
   According to fisk.edu, the team made their historic debut at the Super 16 gymnastics competition in Las Vegas, Nevada on Jan. 6. The meet was the first held collegiate competition of this year's women's gymnastics season and was split into four sessions. 
   According to super16gymnastics.com, Fisk competed in the first session where they placed fourth behind Southern Utah, University of Washington, and University of North Carolina with a team score of 186.7. Fisk's own, Morgan Price, had a historical first-place finish on the vault after a stuck Yurchenko full. 
   Fisk continues to improve in competition as they are ranked 69th with an average team score of 188.545 as of Feb.1. 
   According to collegegymnews.com, just a week after Fisk University made history on Jan.13, Talladega announced their intent to start their own women's gymnastics team which will debut in the 2024 season. Later, they announced that the team will be coached by Aja Sims-Fletcher. 
  Tarver and Sims-Fletcher, in addition to their positions of head coach, each respectively have made their own historic contributions to the sport from the competitor standpoint. 
   According to fisk.edu, Tarver competed for the University of Georgia where she became the first-ever black gymnast to win an NCAA championship. 
   According to hbcusports.com, Sims-Fletcher who competed for the University of Alabama was an SEC champion and received All-American honors on the beam and floor exercise. 
   Fisk University and Talladega College also have and continue to work with the Brown Girls do Gymnastics (BGDG) and the HBCU Gymnastics alliance. 
   BGDG has worked towards the addition of gymnastics into HBCU's for just under a decade and hopes that the momentum of the movement inspired by Fisk University and Taledega will help further this. Fisk University even plans to hold the sixth annual Brown Girls Do Gymnastics Conference this summer. 
   According to popsugr.com, Tarver hopes to continue to work with BGDG in an attempt to add more gymnastics programs at other HBCUs. 
   Nonetheless, both teams have certainly made an impact and set the foundation for future gymnasts, teams, and schools to come.