Alyssa reviews the spectacular "Whitney Houston: I Wanna Dance with Somebody"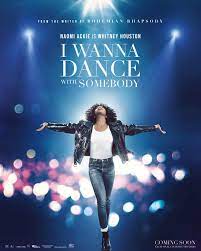 On Dec. 23, 2022, "Whitney Houston: I Wanna Dance with Somebody" was released. It starred Naomi Ackie as Whitney Houston, as well as Ashton Sanders as Bobby Brown, Stanley Tucci as Clive Davis, and more. 
   The film was written by Anthony McCarten and directed by Kasi Lemmons. Classified as part of the biography, drama, and music categories, this movie told Whitney Houston's story.
   According to IMDb, "A joyous, emotional, heartbreaking celebration of the life and music of Whitney Houston, one of the greatest female R&B pop vocalists of all time, tracking her journey from obscurity to musical superstardom."
   This movie went above and beyond. I saw it on Dec. 29, 2022, and have genuinely listened to at least one Whitney Houston song every day since. The movie was an emotional rollercoaster in the best way; it pulled you in at the beginning and kept your attention the whole time. 
   It was 2.4 hours long which typically is a little long for me. My preferred movie length is just under two hours, however, I ate up every minute of this movie. After the "Elvis" movie, which I did not think highly of, I was worried this movie might be too long and boring but it was the exact opposite. 
   I think the producers portrayed her life in a genuine way. They did not try to hide her drug addiction and didn't cover up the fact that she was in an abusive relationship. However, they make it known that these were things that she worked to push past. While her drug addiction did contribute to her cause of death, which according to Britannica she drowned accidentally and had cocaine and heart disease as contributors, it was something that she did go to rehab for, so they showed both sides of it.
   They also showed both the glory and burnout that she experienced as a world-renowned singer. Even people as talented as Whitney Houston can't do what they love 24/7 without burnout, which was nice to show the audience.
   I do wish they would've shown a little more of her daughter. From the portrayal of the movie, I can't tell if Whitney was an absentee mother or if the movie just didn't give a big look into the mother-daughter relationship for some other reason,
   Overall, I would recommend this movie to a friend. I give it a 9.8/10.