Tayten Swain reignites her gymnastics career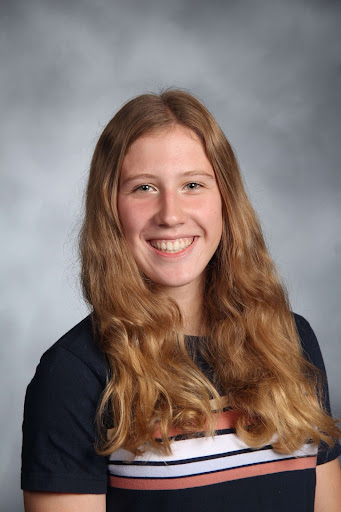 Freshman Tayten Swain rekindles her passion for gymnastics and joins the Berlin Gymnastics team after her hiatus from the sport. Swain is expected to be an asset toward the team's goal to place in the top three at the state competition. 
   Swain was a highly competitive gymnast prior to her decision to join the team but decided to drop out of the sport to protect her mental health.
   "With this sport, there have been many ups and downs, it has definitely been a love-hate relationship but [it] has made me who I am," Swain said. 
   Swain stopped after her return to the gym when she realized that she had not missed the sport over her time off and to protect herself from the physical and mental strain the sport had put on her health. 
   "I then knew something was off when I didn't miss it. When we got back in the gym that was when I realized how mentally and physically draining it was," Swain said. 
   Swain competed at a high level and even was homeschooled to train 30 hours a week to keep up with her rapid progression. She competed in two seasons of level nine and was set to compete in level 10, the highest level before she stopped. 
   She reached many milestones throughout her club career. She competed for level seven at the youngest age allowed, 7 years old. She also won the all-around level 9 states and was a two-time regional champion on the floor exercise. 
   Swain trained intensely to keep up with her talent and rapid progression. She was homeschooled for multiple years in order to stick to her intense schedule where she trained 30 hours each week. 
   Swain was pushed very hard at a young age which led her to develop mental blocks. Swain began to struggle with skills that were once easy and could not perform backward elements. 
   "These mental blocks were something that stuck with me and still like to visit me but now as I am older I now understand it more and what is really happening to me with my mental blocks," Swain said. 
   She was hesitant to join Berlin's gymnastics team because of her altered relationship with the sport but ultimately decided to give it a try
   In the short time Swain has spent with the team she has quickly resumed her skill set and has enjoyed the team's foundation and family atmosphere. 
   Swain is expected to provide a large contribution to the team. She is excited for the competition season to begin and to help the team place in the top three at states, a goal the team has set for themselves, in the postseason.
   "There are expectations for the team that I am ready to meet and ready to get top 3 this year," Swain said.