Miami Grand Prix sparks controversy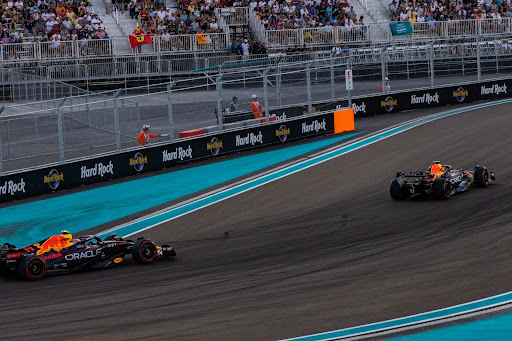 The Miami Grand Prix took place on May 7 at the Miami International Autodrome. Round five ended with Red Bull's Max Verstappen in first place for the second year in a row, which makes him the only driver to win in Miami. 
   The Miami Grand Prix is the first of three Formula 1 races that takes place in the United States and the first of five races that happens in North America. The other two races that take place in the US are in Austin, Texas at Circuit of the Americas which will happen in October and for the first time this year there will be a race in Las Vegas at the Las Vegas Street Circuit. 
   Many Formula 1 fans were upset with the amount of social media influencers that were invited to the event but didn't know any details about the sport. Tarte, a popular makeup and skincare brand, often hosts trips where they spend large amounts of money on influencers to market their new products in a destination. They tend to travel to tropical destinations such as Bora Bora or Turks and Caicos, but for their most recent trip they sent influencers to the Grand Prix. Some beauty and lifestyle influencers posted on social platforms that they would be in attendance at the Grand Prix with Tarte, but had no clue what Formula 1 even was, while others went on to call teams by the wrong names. This left many F1 fans disappointed, especially since the cost to go to a race is quite extreme and they believed that more F1 influencers on Tiktok and other popular social media sites should have been invited, rather than beauty influencers.
   Not only were fans upset with the influencers but the drivers did not like the introductions that they had to do before the race, as it took time away from them to talk with their engineers and get through their pre-race warm up and rituals. 
"Personally, I think it is just a personality thing. Some people like to be more in the spotlight, some other people don't. I personally don't, so for me I think that naturally what they did today is not necessary. I prefer to just talk to my engineers then put my helmet on and drive but of course I understand the entertainment value," Verstappen said in a post race interview, according to Sky Sports.
   Qualifying on Saturday made for an interesting starting grid for the race on Sunday. With both McLaren's eliminated in Q1 and seven time World Champion Lewis Hamiton eliminated in Q2 had him set to start the racing P13. With around two minutes left in Q3 Ferrari's Charles Leclerc spun out and crashed into the barrier at turn seven in the same spot where he crashed on Friday in free practice two. Due to the crash Q3 was not resumed and it left Verstappen in P9, as he was not able to get a lap time in and his teammate Sergio Perez in P1, Fernando Alonso in P2 and Carlos Sainz in P3. Leclerc ended up in P7 to start the race as he had already set a lap time before he landed in the barriers. 
   Leclerc was very disappointed in himself after an error that he made two times in a matter of 24 hours, especially after Ferrari's difficult start to the season so far. 
"This is not an excuse. It's difficult for everybody. So two days, two mistakes, same corner. So yeah, this is not acceptable and, yeah, I'm always very harsh with myself and today was just not good," Leclerc said, in his post qualifying interview according to Formula 1.
   Leclerc has DNFed two of the five races so far, after an engine problem in round 1 and a crash in round 3. However, last week looked hopeful for the Ferrari's as he ended round 4 in Azerbaijan with two pole positions for the sprint shootout race and the Grand Prix and ended with two podium finishes. Second place in the sprint race and third place in the Grand Prix. Leclerc was able to finish the Miami race in the same position as he started P7, even after some tough battles with the Haas driver Kevin Magnussen. 
   Logan Sargent, the United States first F1 driver in seven years, ended his hometown race in last place and was even lapped by the Red Bull's. Sargent grew up just 18 miles from the track in Fort Lauderdale. McLaren has also had some struggles so far this season and ended the race with Lando Norris in P17 and Oscar Piastri in P19.
   The Red Bull's have dominated this season and not one team's car is even close to the power that the Red Bull's have especially in the DRS zones. Verstappen began the race in P9 and was able to end the race in P1 with his teammate Perez right behind him in P2. The gap between P1 (Verstappen)  and P3 (Aston Martin's Alonso) was 26.305 seconds, according to ESPN. Red Bull has had a first place finish for every race so far this season and 1-2 finishes, where both of their drivers were top two, in four out of the five races.
   Other than Verstappen's ability to speed past everyone on the track and not cause any collisions, the 2023 Miami Grand Prix left some fans bored as it was the first race where every driver has finished since Turkey in 2021, as well as the first race of the season without any yellow or red flags. Round 6 of the 2023 season will continue at the Emilia Romagna Grand Prix on Sunday May 21.