NCAA women's basketball attracts a spotlight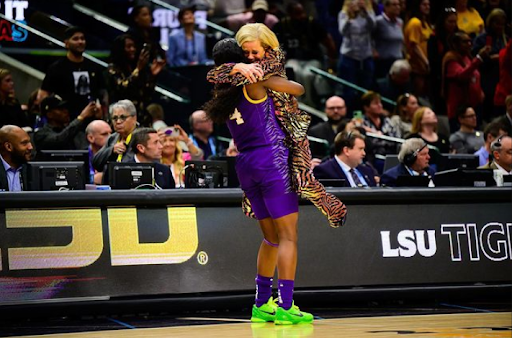 A fiery championship game, broken records, sparkly outfits, and controversy were just a few of the exciting moments that led this year's NCAA women's basketball tournament to smash viewership records and gain a great deal of media attention. 
   The tournament which kicked off on March 15 came to a close Sunday, April 2 as the number two-seeded LSU Tigers defeated the number three-seeded Iowa Hawkeyes with a final score of 102-85.
   According to Sports Media Watch, the championship game racked in on average 9.9 million viewers, a 103% increase from last year's tournament and a leap ahead of the all-time record for the women's tournament.
   This gain of audience heavily contributed to the buzz around the tournament through its many post-worthy or controversy-filled moments. 
   A quick internet search or social media browse of the tournament and one name certainly seems to stick out in the headlines. That is no other than the Iowa Hawkeyes premier guard Catlin Clark. 
   According to CBS Sports, Clark scored 191 points throughout the tournament, the most ever to be scored in a single NCAA tournament for both men and women. She also broke the record for the most assists in a single women's tournament with 60. 
   Although Clark and her teammates fell short in the championship game, her dynamic performance with many feats and broken records created a lasting legacy. 
   The LSU Tigers are not without their stars as well. Head coach Kim Mulkey who led the team to their first-ever national championship in just her second season with the program has gained an immense amount of attention as well as star player Angel Reese. 
   Mulkey's personality can be seen through the screen as she sports a passionate demeanor and flamboyant outfits. 
   Whether it be her bright pink flower embellished pantsuit or her tiger print pantsuit covered head to toe in sequins that she wore for the national championship game, Mulkey's attire has become an internet sensation. Her outfits in addition to the passionate and often criticized way in which she coaches have skyrocketed her name into headlines and made her a household name. 
   Reese, a forward who helped lead her team to the national champion title has also gained attention in the public eye which airs on the more controversial side as she receives both backlash and praise for her on-court gestures. 
   According to CBS Sports, as the championship game was in its final minute, Reese made a "you can't see me" gesture towards Iowa star player Clark and pointed to her ring finger. Many took to social media to criticize Reese and claimed it showed bad sportsmanship and to say it was classless. 
   Controversy stirred when others online came to Reese's defense and a video of Clark who made the same gesture in an earlier game resurfaced. Clark received a much more positive response in comparison to Reese. 
   Reese went on to defend herself and argued that she is always true to herself and this criticism is not anything new. In addition, Clark claimed that she did not notice the gesture and has a respect for Reese and the LSU team. 
   Whether it be in a positive or negative light, the attention that Clark, Mulkey, and Reese have acquired has surely made them household names. These women and the athleticism displayed at this year's tournament have inspired many and brought new attention and recognition to women's basketball.
   The gained attention was shown not only through the broken records in regards to viewership as well as through a continued spotlight in the news and on social media to bring an acknowledgment to an often overlooked group of athletes.