Earthquake shakes buildings and pockets of thousands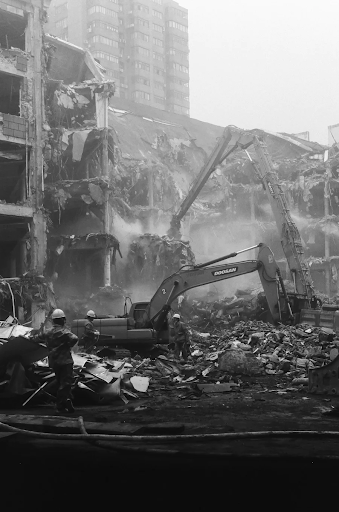 Early on Feb. 6, a 7.8 magnitude earthquake shook the streets and buildings of Turkey and Syria and flattened entire blocks of buildings over citizens in their sleep.
   According to CBS, the earthquake has a scary death toll of 40,000 people as of Feb. 16. The aftermath of the earthquake left families traumatized, people buried alive and a great amount of broken hearts as so many Syrians and Turkish people are without loved ones. Post-earthquake there have been unseasonable frigid temperatures as low as 15 degrees below average that have only added to the aftermath struggles.
   "We've got a lot of people who have survived now out in the open and in worsening and horrific conditions," earthquake response incident manager Robert Holden said to CNN.
    Those who survived are extremely grateful for the gift of life but are left with nothing. Many survivors are crammed in small spaces with fellow survivors and they have had to endure record-low temperatures on top of it. They have major supply issues, necessary services, and goods to their citizens in times when they need them more than ever.
   "We've got major disruption to basic water supplies. We've got major disruption to fuel, electricity supplies, communication supplies — the basics of life. We are in real danger of seeing a secondary disaster which may cause harm to more people than the initial disaster," Robert Holden said to CNN.
   According to Vox News, the country is not a stranger to earthquakes as they lost 17,000 people in a 7.4 magnitude earthquake in 1999. With Turkey being an upper-middle income country their response efforts have been much accelerated than low-income countries in Syria. Prior to the earthquake, Syria's needs reached their highest levels since its war in 2011.
   "Wealth, political instability, and even harsh weather conditions affect the response to natural disasters. The resilience of local communities is severely affected by such additional threats," Luigi Di Sarno, program director of sustainable civil and structural engineering at the University of Liverpool said.
   In the fallout of the earthquake, many families and homes have been left vulnerable. This has sparked over 232 investigations into fraud-related cases which lead to 97 arrests in the past week. As well as physical fraud cybercriminals have taken advantage of generous people that are in search to help those in need. These criminals pose as donation agencies and take advantage of the kindness of innocent citizens.
   ​​"Anything you receive about this recent earthquake, be very suspicious. With this topic, think three times before you click. It is very possible that it is a scam, even though it might look legit or was forwarded to you by a friend," Founder and CEO of KnowBe4 Inc. Stu Sjouwerman said to Bitfender.
   As death tolls rise and more families are affected by famine and fraud, more money and prayers are sent to the middle east in hopes of recovery to normalcy.