Kyrie Irving heads south to help Mavericks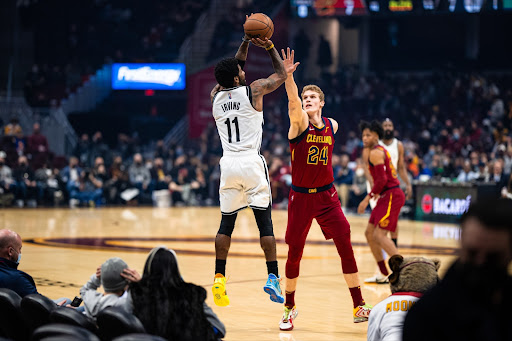 After the first half of the season where controversy followed him at every step, eight-time NBA all-star Kyrie Irving asked the front office of his then-team, the Brooklyn Nets, to deal him to a different NBA team.
   Before he eventually chose to sign with the tenth-ranked NBA team, the Dallas Mavericks, Irving had played four seasons with the Brooklyn Nets, half of which were All-Star worthy. However, on the heels of a controversy-filled first half of the season, Irving requested a trade with less than a week left before the trade deadline. 
   According to Fox News, "Here's a guy in Kyrie Irving that for the last three years, who's gotten most of his money but missed more than 50% of his games, enters the last year after this offseason" Stephen A. Smith of ESPN said.
   According to remarks Irving made soon after he was picked up by the Mavericks, his choice to leave the Nets seemingly was not a new idea. Although he only won one playoff series with the Nets in his four years with the team, Irving felt that his contributions to the team were more deserving of praise than what was given to him.
   According to Deadspin, "There were times throughout this process when I was in Brooklyn where I felt very disrespected…I don't want to go into too many details because it's water under the bridge now," Irving said.
   A season riddled with controversy for the now Mavericks point guard (which was nothing new for the 12-year NBA veteran), Irving missed eight games in the first half of the season due to a controversial Twitter post of his, which included a link to an "antisemitic documentary". Irving did not immediately give an apology when given the opportunity to and therefore was promptly suspended from the Nets as well as from several social media accounts. Irving's contract with Nike was also suspended and the launch of his upcoming shoe model, the Kyrie 8, was also canceled according to CNN.
   According to CNN, "Such failure to disavow antisemitism when given a clear opportunity to do so is deeply disturbing, is against the values of our organization, and constitutes conduct detrimental to the team," the Nets said in a statement.
   Irving in his first game with Dallas scored 24 points to help the Mavericks top the Los Angeles Clippers 110-104. Irving and the Mavericks can only hope to continue this momentum, as they attempt a fourth consecutive NBA playoff berth.