Big Time Rush announces the "Can't Get Enough Tour"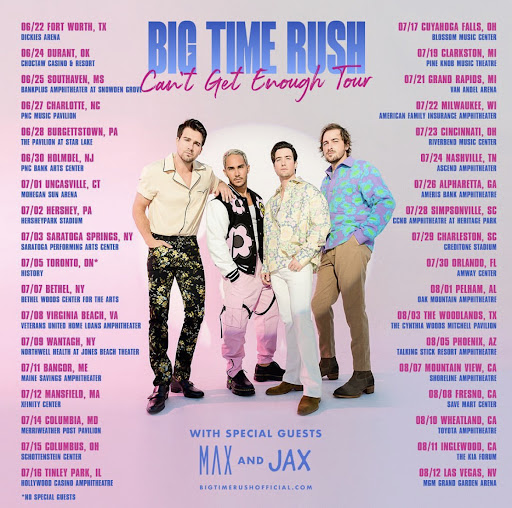 Pop/rock group, Big Time Rush, is headed back on tour this summer as they begin to release more new music.
   Big Time Rush started as a TV show that aired on Nickelodeon and the group quickly became popular due to it. The show followed Logan, James, Kendall, and Carlos, as they  leave Minnesota after record label owner, Gustavo Rock, seeks to sign Kendall for his excellent vocals. Kendall only agrees to go to Los Angeles if Gustavo makes them a band. Ultimately they all end up together in Los Angeles to create music. Throughout the span of the show, they curated a huge fan base for their music as there would often be a new song per episode. 
   In 2013, after four seasons, the show came to an end and with that, the band ended. Fans were devastated and already started to hold hope that one day the band would get back together. After those years of hope grew older a miracle happened. On July 19, 2021, The band took to Instagram to announce their comeback with two concerts. 
   "BIG TIME RUSH LIVE! WE ARE BACK!," the post read "It's been a minute, but we couldn't be more excited to see you! Let's make up for lost time."
   Since then they performed on the Jingle Ball Tour and went on their first headline tour since the comeback. They are now headed on their second tour called the "Can't Get Enough Tour" with special guests Jax and Max. The thought behind the name is that they love to tour and just don't want it to end.
   "To put it simply, we can't get enough. Can't get enough of making new music and can't get enough of performing for everyone," the group said in an interview with Music Mayhem Magazine. "We are influenced by many different artists, styles, and decades and "Can't Get Enough" is a nod to the disco era. We are so excited for everyone to hear the song and everything else we've been working on." 
   With a total of 39 stops, the shows are said to get bigger and better than the last tour. Tickets go on sale Friday, Feb. 10 at 10 AM to the general public and can be purchased on the Ticketmaster website.