Rats and octopi fly onto the ice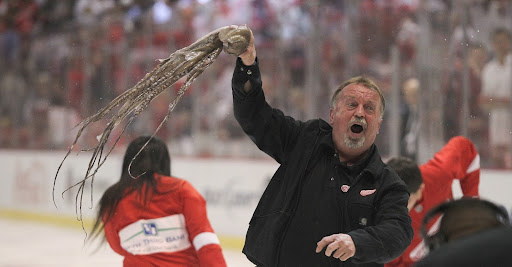 Rats, octopi, and hats – What do all these things have in common? They're all thrown onto the ice during professional hockey games.
   A sport built on traditions, hockey has built countless unorthodox ones in its 119 years of professional action. One of the oldest and well-known of these began in the Stanley Cup Playoffs of 1952. As the legend goes, a Detroit fish market owner, and Red Wings fan, threw an octopus onto the ice to celebrate a Red Wings goal. The Red Wings would go on to win that game and eventually the Stanley Cup. In typical manner of hockey superstition, Red Wings fans assumed the Octopus was a good luck charm and the tradition stuck.
   "Honestly, if I could do it again, I would do it every game," Red Wings octopus thrower Katie Sochiacki said according to MI Hockey.
   A similar situation occurred in South Florida in the 1995 season. The Florida Panthers faced off in a game against the Calgary Flames in an early season matchup. Prior to the puck drop, Panthers former captain Scott Melanby used his stick to get rid of a rat that had appeared in the Panthers locker room. Mellanby would go on to score two goals and the Panthers would defeat the Flames 4-3. Panthers goalie at the time John Vanbiesbrouck would then famously quote that his teammate scored a "rat-trick".
   "It was incredible to see opposing goalies, arguably the toughest athletes of any sport, cowering in their nets as the rats rained down upon them," Joey Ganzi of the Hockey Writers said.
   Throughout the course of the rest of the Panthers' season, fans would throw plastic rats onto the ice after every Panthers goal. The rats came to symbolize the Panthers and their success that season, as they would go all four rounds and reach the Stanley cup finals that season.