Bears rock more than double blue
   The family atmosphere around Berlin is a strong aspect of the Bears. However, like any family, there is a harmony of unique individuals and styles. Although one might think that Bears dress in double blue all day every day, the personal sense

of style shines through the halls each day. 
   With the fashion industry always in constant change, high schoolers fall at the pinnacle of the trend cycle. If someone were to walk into Berlin, all of the top-style
moments would be on display on their way  to their respective classes. However, Berlin also has students who march to their own beat when choosing what to wear to school. The unique combination of vintage, modern and distinctive outfits worn at Berlin act as a display of personality of what the student body has to show. 
   Here are a couple of standout styles that have been around 3140 lately.
   Avery Callison '23 sports a popular pale yellow jacket from the bohemian fashion company Free People. She paired it with a staple plain white t-shirt and blue jeans as well as with some white Converse.
   "I like using fashion as a creative outlet for my clothes," Callison said. 
That outlet is so important, especially as a teenager only at the start of identity discovery. Style is an aspect that will continue to develop and grow in synchronization with one's individuality.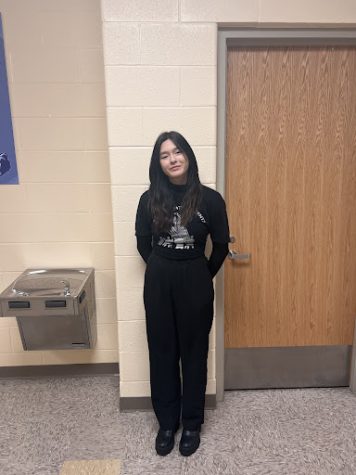 Kyla Gray '26 went for a monochromatic black look and added to the dimension of the outfit with layers. As a high schooler, especially as a freshman, it can be easy to want to blend in, but one does not have to be the biggest voice in the room to express themselves when you can channel it in style. A personality can shine just as brightly through clothing.