Berlin Swim vanquished Thomas Worthington and Worthington Kilbourne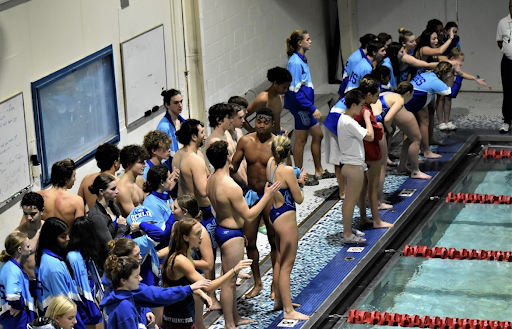 On Wednesday, Dec. 7, Berlin traveled to the indoor Worthington pool to compete against both Thomas Worthington and Worthington Kilborne. The bears swam in very competitive races and battled it out to defeat both teams. 
   "My favorite part of meets is cheering for my teammates and getting chipotle afterward with everyone!" Lauryn Ebersole '23 said.
   Due to time constraints, there was a limit to the number of swimmers in each event which resulted in less time in between races and less rest time than usual. Despite this challenge, the bears swam their hardest and the girls and boys collectively scored a total of 301 points.
   "Before meets, I make sure to get a lot of sleep the night before. I also pack snacks to keep me fueled throughout the meet," Davis Vaught '25 said.
   The Bears never fail to keep a positive and uplifting environment at meets. If Berlin swimmers were not in an event, it's assured that they cheered for their teammates at the end of the pool. 
   "My favorite event to swim is 100 breaststroke! I have been a breaststroker for most of my swimming career and the 100 has just come to be one of my favorites!" Ava First '23 said.